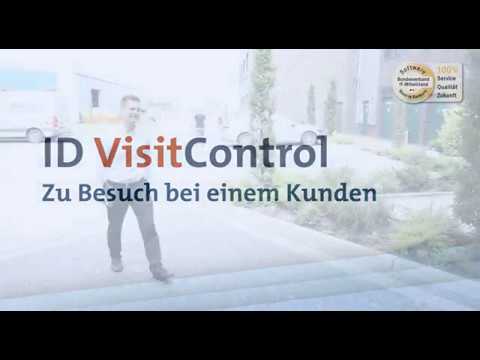 Individual visitor statistics

Define permanent visitors
The central control of your visitor reception
The reception module is the core module of our visitor software ID VisitControl and thus represents the heart of the software.
As the name already describes, this module is only used where contact with visitors to your building takes place, namely in the reception area. This is where all information concerning your visitors comes together.
The intuitive and simple menu allows you to register individual visitors or even entire groups of visitors quickly and easily, so that your visitors don't even have to bother with your registration and can concentrate on their visit.
Of course, not only registration or pre-registration in the reception module of our visitor software ID VisitControl is possible. It also integrates the printing of individually designed and personalized visitor badges. Here ID VisitControl offers you very flexible possibilities for the type and design of the visitor badge.
Visitors and visitor groups can be registered and/or pre-registered via the Reception module. The attendance list gives you an overview of all visitors currently in the building at any time.
In addition, this part of the visitor software includes a visitor management in the form of various protocols and a visit history. This way, not only current but also past visit histories can be tracked at any time and you can maintain scalable visitor reporting.
Especially in times when the pandemic makes it essential to trace chains of infection, this function of ID VisitControl can actively contribute to this.
The Reception module allows you to use all the core functions of an intuitive and flexible visitor software and represents the central cockpit of your visitor management.
Depending on how you want to set up your visitor management, this module can be integrated into your company as a single-user or multi-user version. In addition, ID VisitControl offers you various possibilities to combine the reception module with helpful additional modules / additional functions, such as the retrieval of a digital signature, registration via barcode or the use of notifications via e-mail.
This modular structure offers you flexible options for receiving visitors to your establishment in the way you want them to come.
The following is a brief overview of the functional scope of the Reception module in the standard version for visitor management ID VisitControl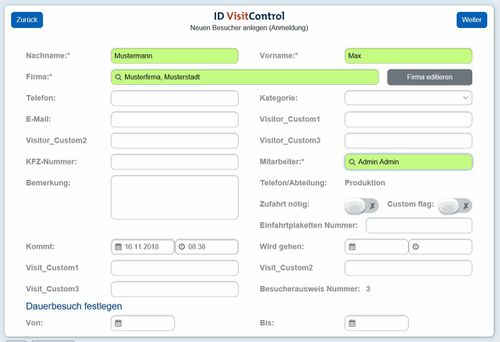 Easy registration
Through the intuitive menu navigation, new visitor data can be recorded quickly and existing data can be called up easily to register the guest as a visitor.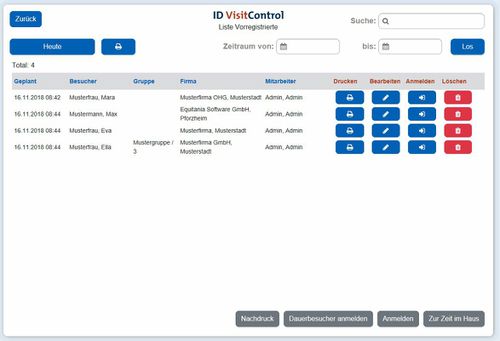 You have the overview
You can find pre-registered visitors with one click in a list. From this page you can quickly access other pages and can work and register visitors quickly and easily.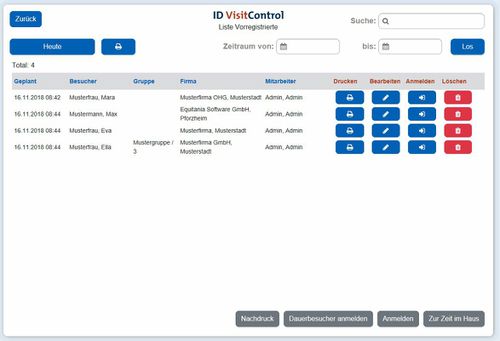 You always know who is there
Find out quickly who is currently in your house. This can also provide a quick overview in emergency situations, thanks to the current attendance list.
Additional modules

Expand your reception module

---
Multi visitor registration
Visitor registration for multiple visitors in one step.
Notification
Notify your reception automatically when you pre-register.
Signature pad
Have safety instructions easily confirmed electronically.
Input disconnection
Always know exactly at which entrance your guest is expected.
Barcode registration
Permanent visitors can cancel and register themselves using a barcode.
Office
Send e-mails to your visit directly from the viewer software.
Some of our video tutorials
---
ID VisitControl Register individual visitors
In this video we show you how to register an individual visitor in ID VisitControl in the reception.
ID VisitControl visitors currently in house
In this video we show you how you can quickly view the visitors who are currently in the building in ID VisitControl in the reception area.
ID VisitControl - the administration in reception
In this video we show you how to store or edit the data of a company in the master data.